OUR ROOTS
Trinity Community Church was founded in 1886 and was the very first church established in Tigard (at that time called Tigardville).  We are proud and excited to be here in this community.  We are affiliated with the Pacific Conference of the Evangelical Church.  Trinity Community Church is distinctly Wesleyan in doctrine, meaning its roots go back to the ministry of John Wesley, the 18th century leader of the spiritual awakening in England and America.  The church's doctrinal distinctive, in addition to the preaching of the Gospel, is an emphasis on the holiness of life.  This holiness is not the result of our goodness, but God's filling us with His Holy Spirit.  His Spirit living in us is reflected in both an inward purity and also in outward social action and justice.  This work God does in and through us by His Holy Spirit is a result of His grace to us that is received by our faith in Jesus.
WHAT WE BELIEVE
About God... God is the Creator and Ruler of the universe.  He has eternally existed in three divine persons, the Father, the Son, and the Holy Spirit.  These three are co-equal and are One God.  His overriding character is one of love and holiness.
About Jesus Christ...  Jesus Christ is the divine Son of God.  Jesus lived a sinless human life and offered Himself as a perfect sacrifice for sins of all people by dying on a cross.  He arose from the dead after three days to demonstrate His power over sin and death.  He ascended to heaven and will return to earth as King of kings and Lord of lords.
About the Holy Spirit... The Holy Spirit is the Third Person of the Trinity, present in the world to carry on the work of the Father and the Son on earth.  He ministers in many ways to people as well as through people to bring God's kingdom to earth as it is in heaven.  He makes human beings aware of their need for Jesus Christ, and God's righteousness.  He lives within the hearts and lives of those who receive Jesus as Lord and Savior.  He leads people into the truth, brings the abundant life of Jesus so they can become more like Him.  His presence is a guarantee that we belong to God and the security for the time when Jesus comes again or when we will stand before God to give an account of our lives.  His presence in the lives and hearts of every Christian provides cleansing and freedom from the bondage, pollution, power, and penalty of sin.  It also brings access to God's power, guidance, comfort, peace, joy, patience, self-control and most importantly the love of God.
About the Bible... The Bible is the inspired Word of God to us.  It was written by human authors under the supernatural guidance of the Holy Spirit and is the revelation of God's will for humankind.  Because it is inspired by God, it is the truth without any mixture of error.
About Humankind... People are made in the image of God, to be like Him in character.  People are the supreme object of God's creation.  He loves them and wants to have a right relationship with each and every person, and for them to have a right relationship with each other.  Through the transgression of Adam, the human race has rebelled against God, and apart from the grace of God, is inclined towards evil.  Except a person accepts the free gift of salvation offered through Jesus Christ, he or she cannot enter the kingdom of heaven.
About Salvation...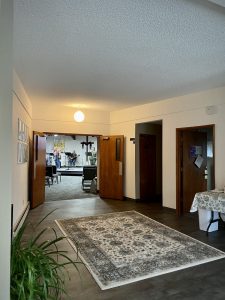 Salvation is God's free gift to anyone who will accept it.  Only by trusting in Jesus Christ and His sacrifice for the sin of humankind can a person be saved from sin's penalty, which is death.  When a person turns from his or her self-ruled life and accepts Jesus in faith, this person is saved.  Eternal life begins at this moment.  A saved person will spend eternity in heaven and an unsaved person will spend eternity in hell, separated from God.
WHAT WE DO
Preach the Gospel
We believe what Jesus told His disciples before returning to His Father is also meant for us, "Go into all the world and preach the good news to all creation." (Mark 16:15)  The good news (Gospel) is that Jesus came to save us by giving us eternal life.
Pray
Prayer is the foundation of who we are and what we do.  Prayer is talking to God and Him talking to us.  We want to be, as Jesus describes what His Father's house should be, "a house of prayer for all nations."
Plug In to Life
We believe that God is love and that He loves us.  Because of His love, He empowers us to love Him in return and to love all people.  We certainly are far from perfect, and can't do that in our own strength, but by His love to us, we seek to extend that love to others with whom we share life.